The innovative consumer company that started a 'Shark Fight' and is disrupting the $55B gardening market.
Sign up to be at the front of the launch line!
🚀 Over $5M in Revenue since 2020, $2M in the last year alone

🦈 Fought over on Shark Tank, and seen on QVC and Good Morning America

📈 The $55B gardening market is exploding, even beyond the pandemic

🏆 Millennials make up 29% of gardener demographics and are increasing rapidly

👨‍🌾 78% of U.S. Households gardened in 2021 and 17M people started gardening for the first time

👏 Seedsheet already has more than 50,000 enthusiastic direct customers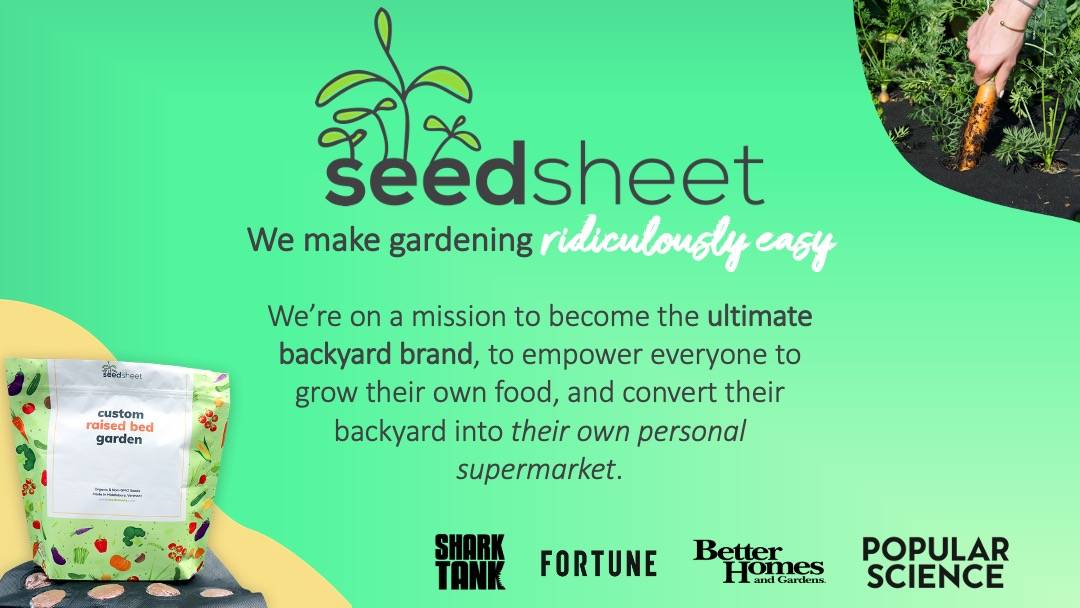 What started as a napkin sketch, has quite literally grown into a company with products on Home Depot shelves, a boisterous Shark Tank pitch, QVC sellouts, features on Good Morning America, and over $5M in sales since 2020.
Now, we've partnered with the illustrious Harmon Brother's Agency, king-makers of eCommerce giants like Squatty Potty, Purple Matresses, and Poopourie, whose marketing chops launched 6 companies to Billion Dollar Valuation Unicorns.
We're here to disrupt the $55B gardening market, demystify agriculture through utility-patented products, and empower anyone to convert their backyards into supermarkets.
We don't just grow food, we grow gardeners.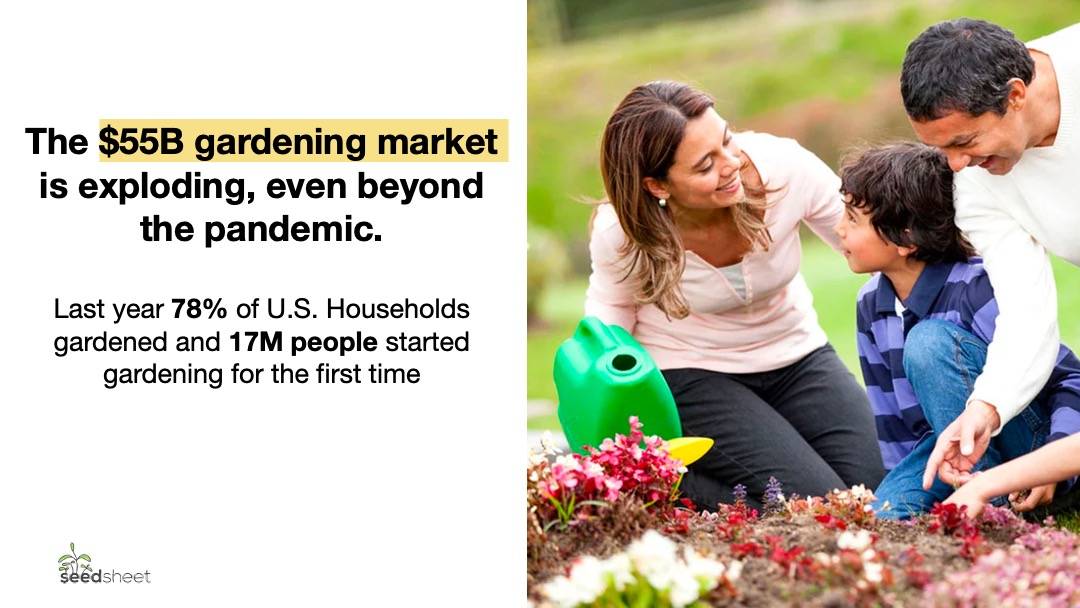 The pandemic created the largest surge in home gardening, ever. But even as things are returning to normal, the gardening market has not slowed.
Millennials are taking up gardening faster than ever before, and the average amount that consumers spend on gardens continues to climb after 2020.
Even as grocery store shelves become bare, and inflation inches higher and higher, one industry bucks the trend... Garden spending goes up in recessions. In 2009, the first Spring after the Great Recession, food gardening spending increased by 20%.

It's great that more people than ever are getting into gardening, but the fact remains that 40% of gardeners quit after their first year because of a failed attempt, and 43% of older gardeners quit because it's "too much work".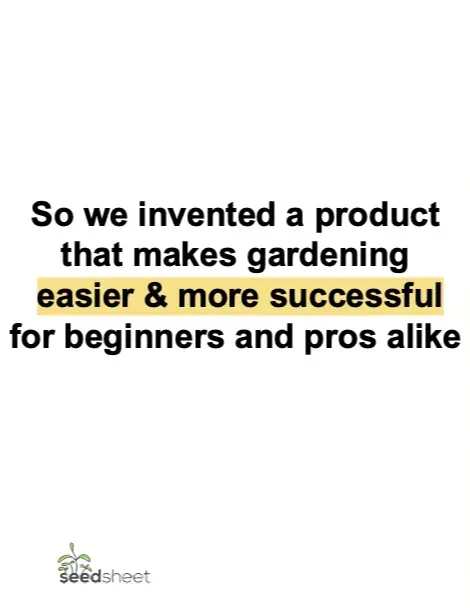 Our Utility-Patented Seedsheets take the pain out of planting, and replace hours spent on hands and knees in the garden with an intuitive and exceptionally easy to use roll-out-sheet. Customers can choose from pre-designed gardens, currated for their climate, or design their own plot which we ship to their door. It's not meal delivery, it's farm delivery.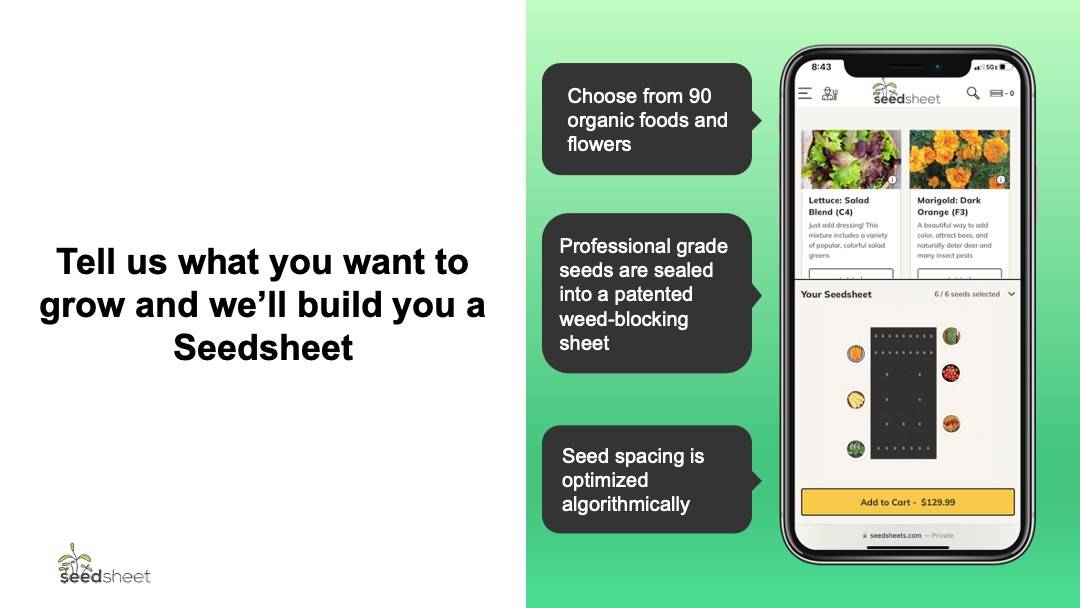 Seedsheets feature dissolvable pods, like laundry pods, that contain Organic and Non-GMO seeds, and are strategically organized with perfect spacing and embedded within a plantable fabric sheet, which blocks weeds organically. Just unroll a Seedsheet on top of soil, add water, and grow the perfect garden. No seeding, no weeding, and no harmful herbicides.
And the best part... people love us. We've sold to over 52,000 customers direct from our website since 2020, and have converted even the most notorious plant-killers into certifiable greenthumbs.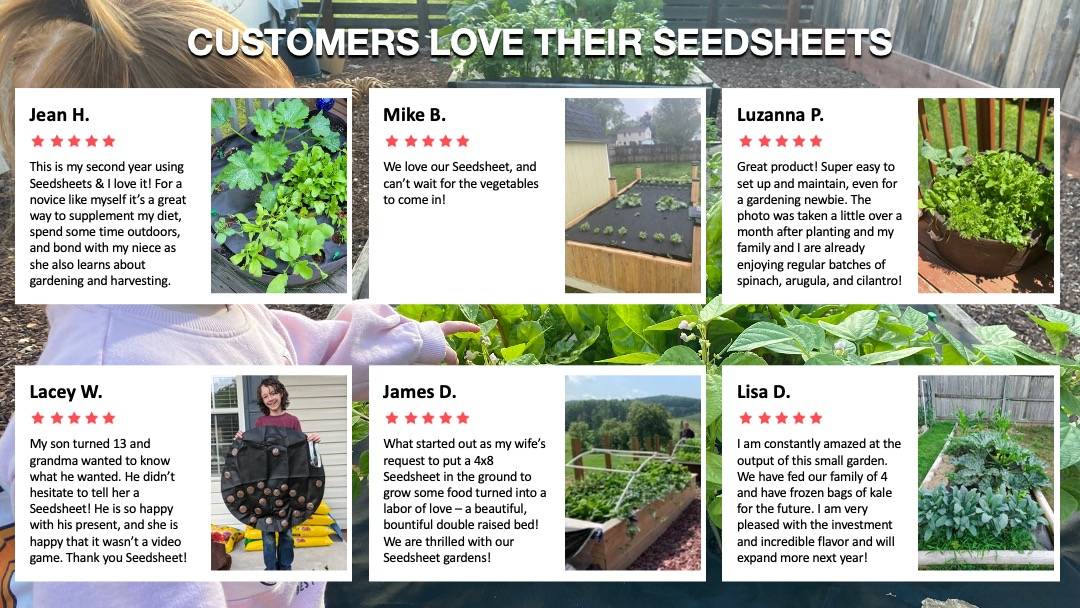 Not only are our Seedsheets in backyards across the country, but they also have been featured in the most urban location ever, Time's Square NYC!
Now, we are gearing up for the next phase of our growth, and will be launching an investment opportunity so Seedsheets can truly be for the people, and by the people.
Sign up to join our exclusive investor list, and be the notified first when we officially launch this investment opportunity!